In Isolation
In Isolation is a Blog about the Isolation Ridge vineyard, the wines of Frankland Estate and those who make them, drink them or otherwise cross our paths as we strive to turn grapes into bottled poetry. Frankland Estate is a family owned and operated winery established in 1988 located in the remote Frankland River region of Western Australia some 41⁄2 hour's drive south-east of Perth.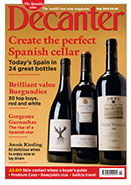 "Decanter magazine is – quite simply – the world's best wine magazine. Read in over 90 countries, Decanter is required reading for everyone with an interest in wine – from amateur enthusiast to serious collector. Our experts recommend 4,000 wines a year, so whether you're looking for affordable Australian Shiraz for the weekend, or premier cru Burgundy to lay down, Decanter will find it for you."
Australian dry Riesling Panel Tasting
The May 2015 edition of Decanter features an in-depth panel tasting of wine close to our heart: Australian Riesling! With commentary from Tyson Stelzer, Tina Gellie, Sarah Ahmed, Justin Knock MW, and Anthony Rose the article contains insight too precious not to share.
Stelzer: "(Riesling) is embraced by sommeliers and wine fanatics, celebrated in its youth and prized in its grand maturity. And it's arguably been the best-value variety from Australia for decades… Australia as a whole is a warm to hot place for growing gtrapes, and great Riesling naturally calls for a cool climate. To get cool in Australia you need latitude (Tasmania) or altitude (Clare Valley and Eden Valley in South Australia). The large Great Southern region of Western Australia may seem an unlikely inclusion… the key lies in cool sea breezes from the Southern Ocean.
"It's this cool, oceanic influence that defines the personality of Great Southern Riesling – generally a more approachable contrast to the bracing acidity infused by cool nights in the heights of the Clare and Eden Valleys and the cold, southerly latitude of Tasmania. Riesling finds a happy home in all five sub-regions of Great Southern and it's the rolling hill country of the northerly sub-region of Frankland River and the slopes of the small but dramatic granitic range of the Porongurups that furnish its most pristine expressions."
…
Knock felt 2014 was a more successful year in Western Australia compared with South Australia… the 2014s from both South and Western Australia have lovely balance and purity of fruit, and a lot of potential for great longevity.
…
For Rose, the 'eye-opener' of the tasting was Western Australia, in particular the wines from Great Southern's Frankland River, Porongurup, and Mount Barker sub-zones. "We're seeing a real dynamic style of Riesling coming out of the west, and a pointer to the future that Australian Riesling is not just all about Clare and Eden."
…
Ahmed: "Both in entries and scores, Great Southern challenged Clare and Eden Valley's Riesling hegemony of old. A stylish array of sub-regional examples bore witness to how well Riesling performs across Western Australia's coolest region."
…
Rose: "Porongurup and Frankland River in particular produced many delicious, dry wines made in a mouthwateringly drinkable style."
Four outstanding Australian Rieslings
The panel tasted ninety-two Australian Rieslings and we are very proud that the Frankland Estate 2012 Isolation Ridge Riesling received the equal-highest rating!
As you can imagine, we're pretty chuffed. So we'll just conclude with the words of Tyson Stelzer:
"Great Southern is the rising star of Australian Riesling. From a tiny base of just 177 hectars in 2012, the production of this region would fit into the Clare Valley more than six times over. And yet its representation of more than 20% of this tasting and almost one-third of the Outstanding and Highly Recommended wines awarded illuminates a region worthy of a lot more attention than it is afforded."
And we'll drink to that!